Excavator Pulverizer Rock Crusher Concrete
Product Detail
Product Tags
Designed for performance
With the newly improved tooth configuration utilizing a high-profile center tooth and lower profile teeth on both sides of the movable jaw, DHG concrete pulverizers can be used for both primary and secondary crushing operations. Abrasion resistant, high strength, alloy steel teeth provide decreased wear and increased durability. In addition, we can also produce concrete pulverizers that come with full 360 degree power rotation for maximum versatility.
1.A cylinder with great power and high speed: The high performance of the DHG pulverizer is guaranteed by the presence of a speed valve. This allows an increase in the number of opening and closing cycles of the pulverizer and
for the hydraulic circuit of the excavator to be preserved. Speed up valve: Fast cycle time.
2. Excellent release of demolished material: The specific openings of the fixed body make the unloading of demolished material easier while maintaining the performance and productivity of the attachment.
3.Interchangeable parts: The design of the mouth of the new pulverizer has been studied to increase the productivity of the attachment. By replacing the interchangeable worn parts it is possible to restore the original profile of the mouth to recover the original performance of the attachment
4. Lighter and stronger structure: High tensile special steel plate.
5. 360 degree hydraulic rotation optional.
6. Working efficiency is two or three times of hydraulic breaker
7. Large opening design, working easily and conveniently.
8. Equipped with steel bar cutter, fulfill crushing and cutting off exposed reinforced steel at same time.
9. Low noise, can be used for city and high-tech zone demolition project.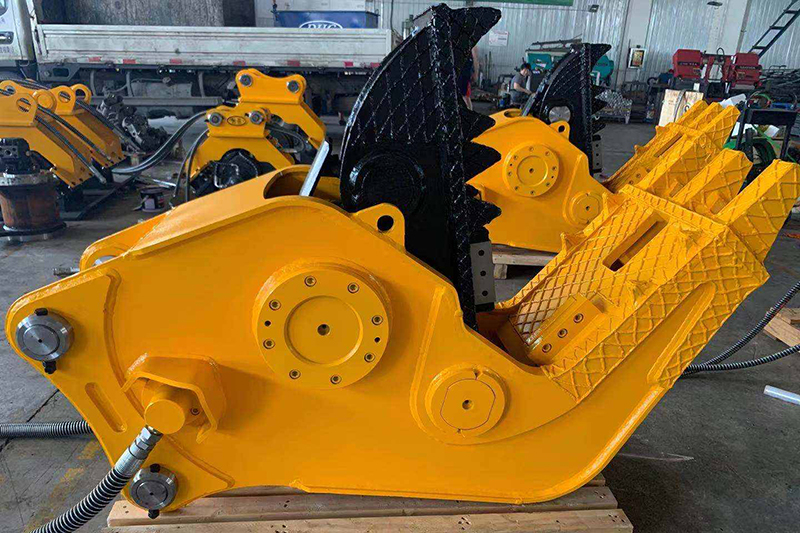 These tools can separate rebar from concrete, enable buckets and other attachments to rotate and tilt, or boost your excavator's lifting power, among other capabilities.
| | | | | |
| --- | --- | --- | --- | --- |
| Model | Unit | DHG-02 | DHG-06 | DHG-08 |
| Suitable Weight | ton | 4-8 | 14-18 | 20-25 |
| Weight | kg | 320 | 900 | 1600 |
| Opening Size | mm | 450±30 | 700±30 | 830±30 |
| Total length | mm | 1170 | 1675 | 2135 |
| Total width | mm | 310 | 590 | 660 |
| Total height | mm | 740 | 1100 | 1310 |
| Maximum crushing force | ton | 83 | 105 | 165 |
| Maximum shear force | ton | 126 | 165 | 210 |
| working pressure | kgf/cm² | 230 | 280 | 300 |
---
---